Dr. Renée O'Leary, prof. Giovanni Li Volti and dr.Konstantinos Partsinevelos, CoEHAR researchers, attended the 6th Summit on THR in Athens, presenting evidence on the use of ENDS as cessation aid and data from the latest studies on the effect of modified nicotine-releasing products in the development of specific diseases
The 6th edition of the Scientific Summit organised by SCOHRE, the International Association of independent experts on Smoking Control & Harm Reduction, was attended by over 250 participants from more than 30 countries around the World.
During the two-days event, that took place in Athens, 60 researchers and clinicians from all over the World discussed the global burden of smoking and the harm caused, legislation and regulation for THR products, as well as clinical evidence and experimental results.
To represent CoEHAR, this year's session was attended by dr. Renée O'Leary, project leader of the in Silico Science project, and prof. Giovanni Li Volti, CoEHAR Director and project leader of the Replica project, two of the most successfull programs organized by the Italian research center.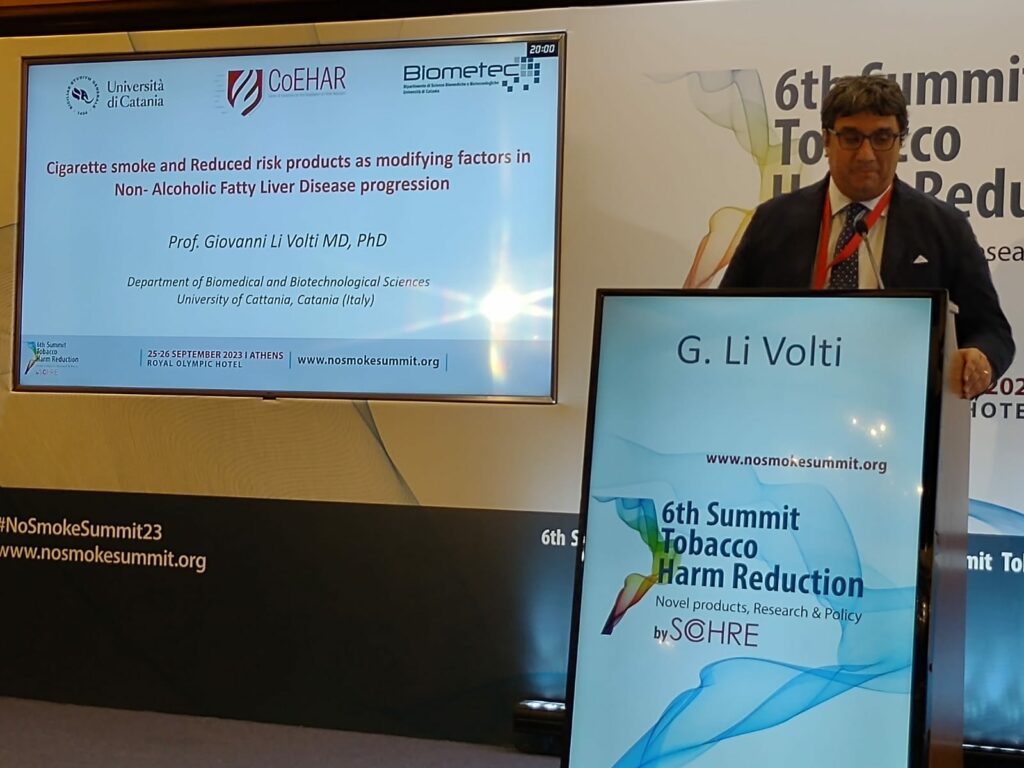 In his speech, prof. Li Volti addressed the issue of the relation between heat-no-burn products and the Non-Alcoholic Fatty Liver Disease compared to smoking and nicotine: "The relationship between smoking and Non-Alcoholic Fatty Liver Disease (NAFLD) is a subject of ongoing research, and the exact mechanisms and associations are not yet fully understood. It's not clear whether smoking directly affects NAFLD or if other factors associated with smoking (such as weight control) play a more significant role.
To this regard, previous studies suggested that smokers may have a lower risk of developing NAFLD compared to non-smokers. This association may be related to the metabolic effects of nicotine, which can affect body weight and insulin sensitivity. The association between harm reduced products and NAFL is even more controversial"
To evaluate the effect of an heated tobacco product compared to nicotine or cigarette, CoEHAR researchers used an in-vitro model of NAFL.
"Our preliminary results showed that tobacco heated product and cigarette do not impact on the disease progression when tested in standard conditions and at clinically relevant concentrations of nicotine" stated prof. Li Volti.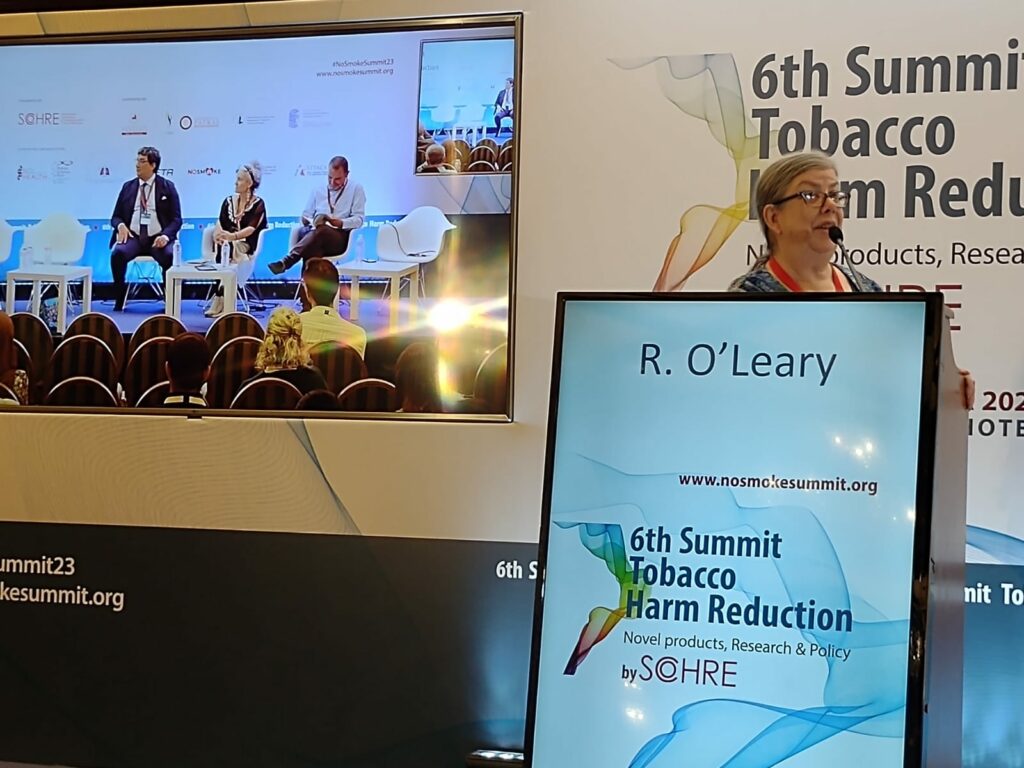 Dr Renée O'Leary showed to the audience the preliminary results of her latest umbrella review: "ENDS (e-cigarettes) as a cessation aid has been researched in 21 randomized controlled trials, and 17 systematic reviews on the subject have been published since 2021" explains dr. O'Leary "With this umbrella review, I presented the preliminary findings on cessation rates and relative effectiveness compared to other treatments".
These findings can contribute the discussions of ENDS for cessation and support harm reduction strategies in the world.
During the panel "Health effects of e-cigarettes and heated tobacco products", prof. Manuela Grazina was present to present "Futuromics: Integrating science in medical practice for health decisions – from nutrition to well-being and addictions".
"Framing human body functioning, depending on genetics and brain reward system, highlights that we are all different and vulnerability or genetic risk is added to life options" explained prof. Grazina "The higher risks depend on one's daily life decisions. Accordingly, science and health literacy must be in the basis of political decisions and public health policies, particularly protecting the most vulnerable and minors, and allowing safer options for adults, in order to make informed decisions".
Dr. Konstantinos Partsinevelos, CoEHAR researcher involved in the REPLICA project, held a presentation on genotoxicity induced by cigarette smoke and modified risk products (MRPs).